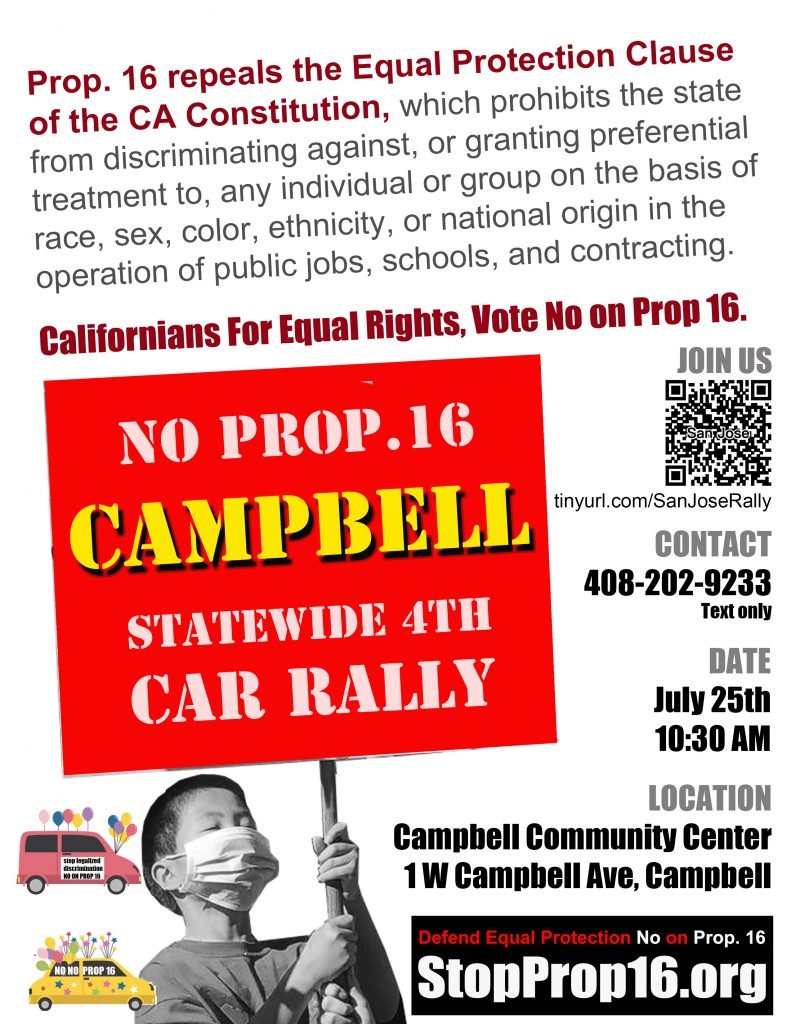 Welcome to our 4th Statewide No Prop16 Car Rally Protest at Campbell!
Some car protest tips here.
[IMPORTANT]
Please DO NOT take the risk if you have any symptom of sneezing, coughing, fever ect.
Please cover your face and keep social distancing.
10:30-11:00am Parking, Last minute decoration (materials supplied) at Volunteer services
Campbell Community Center Parking Map
Service Station, Event help desk;
Parking Lot Entrance
Parking Lot Exit
Public Parking Lot(Please do not park on Permit parking)
11:00-11:30am Keynotes Speeches, Watch Facebook Live Stream in Your Car
Non-volunteer participants are suggested not to get out of your car, unless you need to pick up or purchase car decoration at the help desk. The event volunteer helpers should be no more than 60 people around the help desk area at any time.
The meeting area resides next to the parking lot entrance. The volunteer service area (shown on the map 1) provides Q&A, DIY poster materials, and a fundraiser.
Welcome purchase posters or stickers at the service center right next to the parking entrance by cash or online Noprop16 Donation. All revenue will count to the No-PROP16 donations and support
Copy link to Google map for the car rally route: 7/25 Car Rally Route.
Facebook live stream: www.facebook.com/VoteNoOnProposition16

Our Slogans
Keep Discrimination Illegal
Equal Rights 4 All
NO Prop 16
NO Divisive Prop 16
Prop 16 Risks Your Kids Future
Do not Judge Us by Skin Color
There are restrooms open to the public near the help desk and next to the running track.
Event contact: 408-202-9233;Call in Zoom Link ID: 85761736776 Passcode:54321
Sheriff's Office: 408-866-2121
11:30-12:30pm Start parade: Please click Link for Map: Link to 7/25 Car Rally Map or see below.
During the parade, protesters can call the following phone number to get connected with the leading cars. 408-866-2121 or 650-885-8905 or 408-478-9131
Follow your assigned leading car with national flags.
Car Rally Route: we ask all cars to join the rally and start from Campbell Community Center W. Campbell Ave. Exit; wait in line to join and stay close. The full route is about 15 miles, stay on the right track with your emergency lights on.
1、MUST wear a mask or cover your face all the time. (Need to sign a waiver if you don't)
2、Please consider wearing sunglasses to avoid doxing.
3、Drivers can HONK their horns and turn on their hazard lights. Passengers can SPEAK slogans.
4、Bring a charger for your phone.
12:30-1:30pm Parade starts and ends W. Campbell Ave. Parking Lot entrance
【Route】Click this link to find car rally route on Google map: Link to 7/25 Car Rally Map